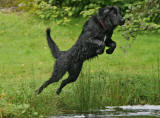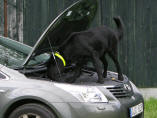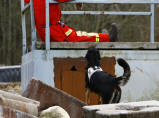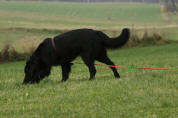 We are members of the Swedish Kennelclub (SKK) and Swedish workingdogs association (SBK). We are also members of the Swedish and German Hovawartclub (AFH and RZV). John has been the secretary of the Swedish Hovawartclub between 2004-2012. Since 2008, John is certified as exterior judge for Hovawart. He is also certified to perform puppy-tests and he is active as a ringassistant.
We are active in several workingclasses as well as obedience. Tracking, army parol dog, search and rescue, messanger dog to name some. We also enjoy shows (exhibitions) a lot.
Until today 5 of our own dogs have obtain the military workingdog certificate (Patrol Dog) and one of them is a certified search and rescue dog.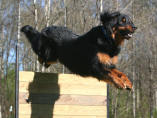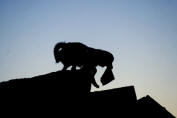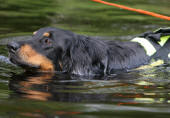 Most important to us is the joy of everyday life with our dogs and the challenge of breeding physically and mentally healthy Hovawart with strong desire for work and true to type, dogs that will make us proud and be the delight of their owners for many years to come!!
Jennie & John ÷rvill Bergenhovs Kennel